Inside the Book: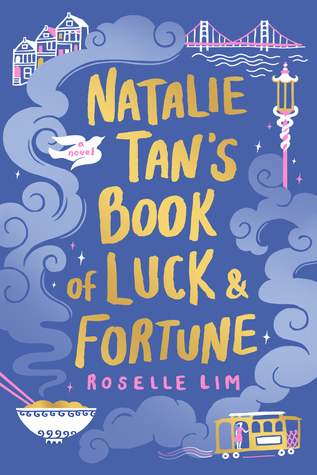 Title: Natalie Tan's Book of Luck and Fortune
Author: Roselle Lim
Release Date: June 11, 2019
Publisher: Berkley Books
Genre: Asian American Literature and Fiction
Format
: Ebook/Audiobook/Paperback
Purchasing:
Lush and visual, chock-full of delicious recipes, Roselle Lim's magical debut novel is about food, heritage, and finding family in the most unexpected places.
At the news of her mother's death, Natalie Tan returns home. The two women hadn't spoken since Natalie left in anger seven years ago, when her mother refused to support her chosen career as a chef. Natalie is shocked to discover the vibrant neighborhood of San Francisco's Chinatown that she remembers from her childhood is fading, with businesses failing and families moving out. She's even more surprised to learn she has inherited her grandmother's restaurant.
The neighborhood seer reads the restaurant's fortune in the leaves: Natalie must cook three recipes from her grandmother's cookbook to aid her struggling neighbors before the restaurant will succeed. Unfortunately, Natalie has no desire to help them try to turn things around—she resents the local shopkeepers for leaving her alone to take care of her agoraphobic mother when she was growing up. But with the support of a surprising new friend and a budding romance, Natalie starts to realize that maybe her neighbors really have been there for her all along.
I have been fascinated by the oriental culture for many years, so when I saw this book for review I wanted to read it.
Natalie Tan left the Chinatown district of San Francisco after a fight with her mother over her ambition to be a chef, and follow in her laolao's (Grandmother) footsteps. But, when tragedy strikes Natalie is drawn back to the world she left, and finds that her mother, while keeping secrets from her, loved her and only wanted the best for her. Being agoraphobic, her mother relied heavily on the neighborhood to help her with her life, and when Natalie comes back she isn't sure how she feels about the neighbors. After settling in and going to visit some of them, memories flood back and she realizes that she blocked out some of the most meaningful parts of her life.
I loved the magical aspect of the book, along with the food and cooking aspect that it usually went along with. I can certainly relate to how much food can mean to memories and family, as I have many, many memories tied to food from my mother and grandmother, as well as other family members.
One thing that I felt was a little short was the character development. While I liked all of the characters, I felt that some of them could have been fleshed out more so I could connect to them on a much deeper level. It is still a book that I would recommend, especially if you are looking for a story that is an easy read on a lazy day.
Meet the Author:
Roselle Lim was born in the Philippines and immigrated to Canada as a child. She lived in north Scarborough in a diverse, Asian neighbourhood.
She found her love of writing by listening to her lola (paternal grandmother's) stories about Filipino folktales. Growing up in a household where Chinese superstition mingled with Filipino Catholicism, she devoured books about mythology, which shaped the fantasies in her novels.
An artist by nature, she considers writing as "painting with words."